We went to MasMas pet grooming centre for Amber's grooming before her spaying operation at 10:30am yesterday (07 June). And as usual, Masmas did an excellent service for following my requests and turned Amber into a cute little princess! Nicely-done there Masmas groomer! Anyway they still charged me $40 for full service which I found it pretty reasonable compared to other grooming shops. They even gave Amber a free little bow to make her look more princess-ish! One of the groomers specially made those little bows for her customers, aww isn't it sweet? She let me chose 2 bows, one is pink and another one is purple blue, both of them were just too sweet and cute and I wanted to tell her to give me both HAHA! But yeah, I can't be so greedy right? It's already nice of them to give me one so in the end I chose the pink bow. (Seriously I sooo wanted the other bow as well! >_<!)
Taken at the grooming place, kinda blurry due to the light.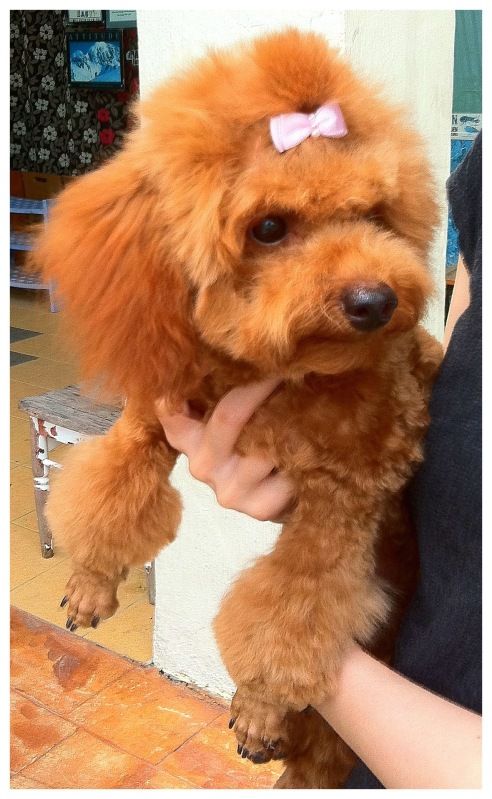 Another shot with better lightning. Here's Princess Amber!
It was done around 1:20pm, took about 2hrs+ to finish grooming. Our appointment for the spaying was around 1:30pm. Light of life vet clinic is just around the corner, a few minutes walk from Masmas grooming centre. I was pretty worried about her surgery as this is my first time bringing Amber to a vet for operation. The doctor ensured me that it's a pretty easy operation since we were spaying her before her first heat. I also enquired some of the followings:
Q:
When is the best time to spay her? Do we really have to spay a 6-months old pup before she even reaches her first heat? Some of the people told me to let her reach her first heat so that she can "experience" her
hormones and be more feminine, to wait for her bones to fully grow, some said spaying before first heat is an old-fashion style.
A:
Recommend to spay before first heat, depends on the dogs whether their bodies are mature enough, it would be best to spay around 5 months+ to 6 months+ especially for female dogs. It will greatly reduce the chance of getting breast cancer, the no.1 cancer that killed many dogs. Also, doing the operation before first heat will minimize blood loss and able to recover very fast, much faster than operating after first heat. If your pup has reached her first heat, it would be best to wait for another 3 months to spay her and not immediately due to the irregular cycle of her period, totally different from human. Their heat period may last from 1 month to 2 months, and some even 3 months. If a pup is having heat while doing operation, she will lose a lot of blood during the process and will not recover as fast, therefore it's more complicated. Do bear in mind that pup tend to grow fat easier after spaying if you give her too much food that's because of the loss of hormones but don't worry, just do not FEED her too much and she will just grow properly and healthily. It is not true that dogs that is spayed before 1 year will not grow properly, they will still grow as big as they should be.
Our conclusion:
Let's spay Amber now.
(We were quite hesitant before the consultation whether to spay Amber now or wait till she's older but after all the explanations as well as months of reading online, we decided to do it as there are more pros than cons spaying before her first heat.)
A video of before and after spaying
The vet told us that they stitched her wound from inside, and the stitch will just dissolve itself, therefore no need to worry about open wound. However, we need to be extra careful not to let Amber stretch her stomach. The wound will also heal as time pass.