We were looking all over online for good reviews of pee trays and came across Yogi Pee Tray, we had thought to purchase Nugi Pee Tray before but because of the size 45 x 55 cm(almost square), we knew that it is not the perfect measurements for Amber's play pen. Yogi Pee Tray had problems with the "ears" at both ends of the plastic support, dogs would chew on the "ears" and it would be easy to be lifted up, exposing the pee pad that is supposed to be inserted underneath. However because Yogi Pee Tray was just sized at 43.5 x 52 cm, which is just slightly smaller than Nugi Pee Tray and fits our 3ft x 2ft crate, we decided to give Yogi Pee Tray a chance.
We had doubts whether it really works, for peeing the problem lies with whether the pee can really go through the holes, would pee be stuck and then make Amber's paw wet? And also for poop, i do understand that the poop is going to be on top of the pee tray waiting for me to pick it up, would it stain? Would it be hard to wash off later on?
The same Yogi Pee Tray at home
Yogi Pee Tray was up to our expectations, it does not get wet after Amber peed on it and washing is really easy, i do not have to scrub unless there is dirt stuck in the hole of the squares but most of the time i use a water pipe to wash the pee tray and the dirt would come off in seconds. There is also a bone shaped design on the middle of the pee tray, it is barely visible but if u look at 45 degree angle it will be more prominent. I find the "ears" of the pee tray really badly designed, i do know that it is for ease of lifting up the pee tray but there are many other ways to solve this, the "ears" made Amber curious about it and would use her paws to lift it up and sometimes chew on it. There is a few times she lifted the pee tray all by herself and start tearing up the pee pad inside!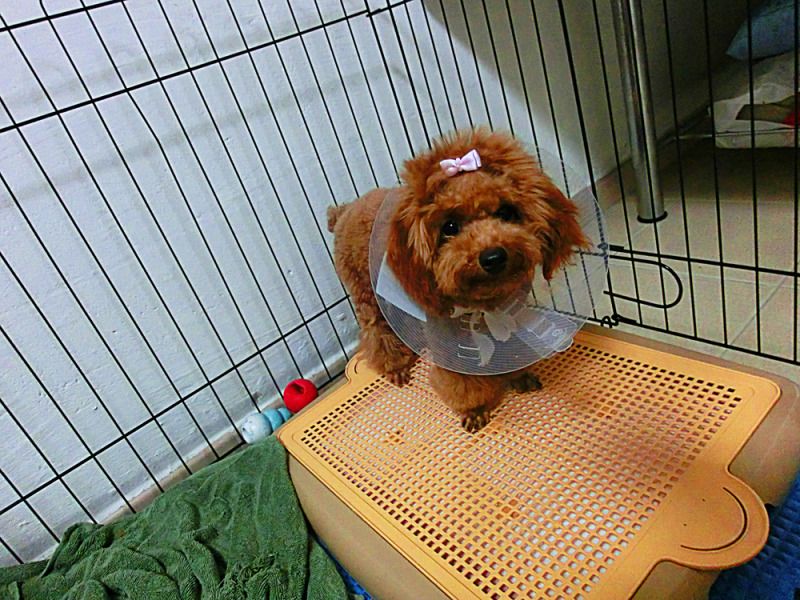 the "ears" are so big that i want to chew them off
Overall we find that this is a really superior product comparing to other pee trays, there is no metal grill that rust or make it uncomfortable for dogs to stand on it. Amber loves it so much that she would rather lie on the pee tray than to lie on the blanket. The "ears" however can be made better but since there is Nugi Pee Tray it should be fine, if you are afraid of your dog chewing on it and you have a bigger space then we would recommend you to get Nugi instead.
Design:
****
Innovation:
****
Review Rating:
8.5/10
quality: the quality of the product, the materials used, the durability
design: the look of the product, the shape, colors and style
innovation: ease during cleaning, the uniqueness of the product, the size, comfort
Click here to buy one today!