This was a very tedious search for us, finding a good vet for Amber. I researched online for many weeks before coming to a conclusion. I called most of the "recommended vets" and asked questions regarding consultation, spay and deworming. I also wanted to see whether the staffs knew what i inquired about. I would ask them stuffs like what does the spay consist, when can i take Amber home, how old should Amber be spayed and why. Some of the staffs do not even understand what i was talking about and told me to book an appointment to ask the vet what i needed to ask, so i blacklisted those clinics. I also cancelled out vets that are overly expensive and too far for transport, i do not want to make the trip back after surgery hard for Amber. Although i usually trust the internet for reviews of good vets in Singapore, i do see some ridiculous recommendations on vets based on things like "good to chat", "funny" and i even saw a thread to recommend the vet because "he is handsome"? You are bringing your precious dog to the vet because your dog needs medical attention, not because he is funny and talkative. Most probably the owners are "tai tais" and are currently in heat.
Well back to the review, I just happened to find Light of Life Vet when I was on the way for Amber's first grooming, it is located at bedok reservoir, quite near
MasMas Groomers
. Since nobody recommended them so i decided to do a research on this vet first, through what i see they looked like a small vet that is operated by 2 ladies. They have a website which is also their blog, and also a facebook page. They always seemed to be helping abandoned animals and strays, helping them with healing process and then put them up for adoption. The thing is that they are not like most vets who are professional speaking, they always speak up their mind in however ways they like without caring what other people think. This is actually a good thing for us, we do not like those who try to hide things from us and since they were helping needy animals we thought why not? We should gave them a try! Because it was located next to MasMas Groomers we decided to bring Amber there for grooming and then to Light of Life Vet for Amber's third deworming and spaying (2 months later). Their prices are also pretty reasonable, $25 for consultation, $25 for vaccination and $245 for female spay non heat(inclusive of consultation, anesthetic, spay, medicine and e-collar). This was the rate we get when we visited the vet, we will not be responsible if the rate changes in future.
Frankly, we didn't really feel anything good on the first visit, which was to bring Amber for her third jab. There was nothing special, the vets were quite friendly but they didn't inform me that they had to charge for consultation even if i bring Amber just for the third jab, they weighed Amber but it was a mess because Amber was not calm and the weighing machine was really slippery (with the weighing scale made of metal base), they could have place an "anti-slip" mat or something there. But because they were entertaining all of my questions without getting frustrated like most people, we decided to go there for spaying too.
Beforehand i had called Light of Life Vet to ask about spaying, when should i spay Amber, why and what does the $245 include, the person picking up the call was knowledgeable unlike a lot of other clinics where they just hired a receptionist and answered the calls, only know the rates based on a sheet of paper and wouldn't know anything else.
On the second trip to the vet, everything was perfect, the timing was right, we reached 10 minutes prior to the appointment timing and waited for awhile before going in. The vet gave us explanation on the procedures of spaying and also check whether Amber was ready to be spayed, the questions we asked is
HERE
. We had to come back in a few hours at night for Amber's anesthetic to wear off, we also asked some other questions like Amber's slightly dry flaky skin, the vet told us that is is normal as Amber is growing and it should be better when she gets older. She also recommended us to get fish oil for Amber, to buy human fish oil instead of fish oils made for dogs, it is because that human supplements are much more strict in quality checking and we should feed Amber those kind to make her skin and coat beautiful. We also asked about her daily meals, that she is not eating much of her kibbles and the vet replied that it is because Amber is at the stage of being choosy about food (Puberty), and wanting to eat only nice ones, we don't know if this is true but we will monitor further. The vet was very happy to answer all our questions, this made us felt safe to put Amber with them.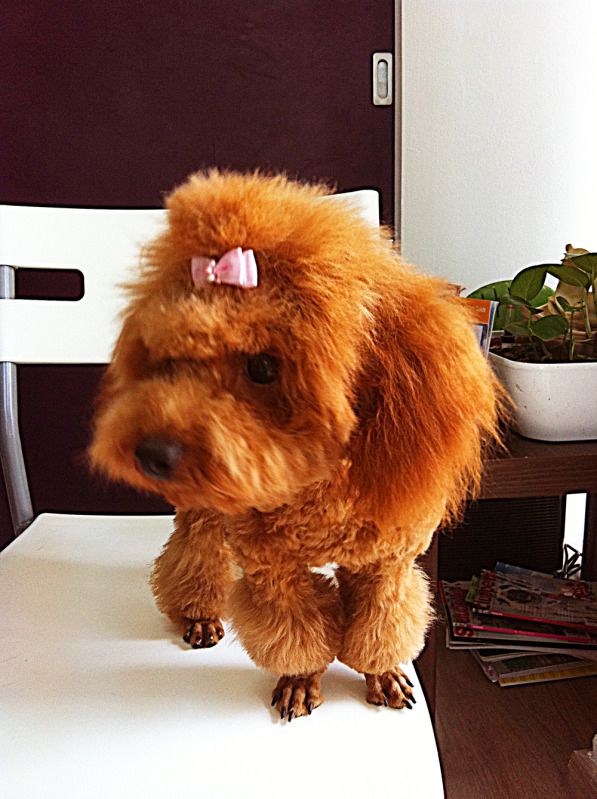 After we came back to collect Amber, she was already wide awoke and very active! The vet taught us how to handle Amber and also what to take note. She showed us the cut that was done during the spaying operation, i was quite surprised that the cut was really small, about 4cm? We were told to bring her back the following week for follow-up appointment, we were also told by her staff outside that we had to pay for the consultation the next week, the $245 was not included for the next consultation.

We came back 1 week later and the vet said Amber was healing really well! She then sent us off and told us that we don't need to pay for the consultation, we were really happy about that, i mean which Singaporean wouldn't want something free?
We recommend everyone especially those living in the east to give Light of Life Vet a try, although do mind that they are very straightforward people and would not hesitate to speak their minds, though for us this is a PLUS.
Skills:
*****
Service:
*****
Price:
****
Overall:
9.5/10
Cons - first appointment was confusing
- weighing Amber was messy
Address: Blk 740 Bedok Reservoir Road #01-3165 (470740)